Worktops, memorials and architectural stonemasons in Sussex
We are specialists in stone, committed to achieving quality each and every time. Whenever we work with a client on their stonemasonry or worktop installation we are dedicated and proactive, providing the best service we possibly can as well as creating a beautiful finished product. We offer worktops in a range of natural stones – granite, quartz and marble – to give you plenty of choice and personalisation options.
We can also offer you architectural stone services, new natural stonework, restoring properties and architectural features to their former glory. We were also incredibly proud to have been asked to install a beautiful kitchen worktop at a new build property in East Sussex for Channel 4's Grand Designs.
Get in touch
Find out all you need to know about our natural stone products by asking JF Stoneworks, specialists in stone. Call 01424 774497, email or fill in our contact form.
We are specialists in granite, quartz and marble worktops in Sussex as well as offering a range of stonemasonry services.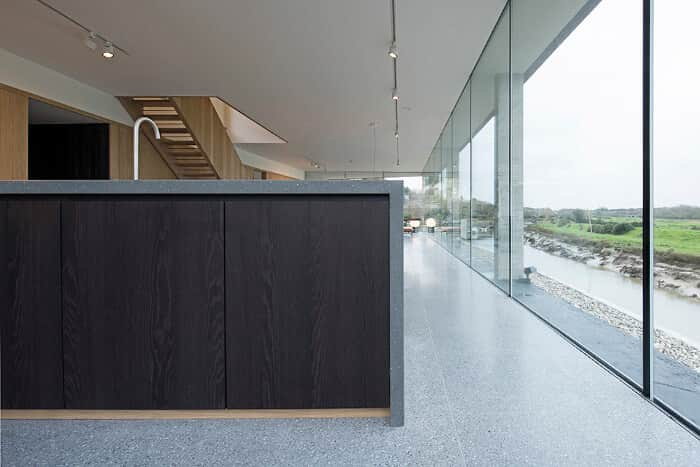 As featured on
Grand Designs Channel 4
We were delighted to be asked to craft and install Basaltite lavastone worktops within a new build project based in Lewes, East Sussex as part of Channel 4's Grand Designs programme. The result was a truly stunning kitchen, reflecting the hard work and genuine passion of our stonemasons.
Why choose
JF Stoneworks?
20+ years' experience in the industry.We have been in business since 2010 and have many more years of stonemasonry under our belts.
Full, free quotes.A member of our team will provide a full quote. You'll know all the costs straight away, and there's no obligation to go ahead.
A family-run, local business.We are proud to be a family business, run by Joe French and Jenny Ford. Our customer experience is tailored and personal.
Projects on any scale.Our expert team of stonemasons and our top-of-the-range machinery mean we have the resources to complete projects of any size.
Select your own stone.The beauty of natural stone is its individuality. We send you images and links so you can view the different slabs on offer. You are welcome to choose your own slab from the manufactures, selecting the right colour and pattern for you.
Visit the JF Stoneworks showroom at:
No. 2 Kingswell Estate,
Beech Farm, Netherfield Hill, Battle,
East Sussex
TN33 0LL
Come and look around! Opening times:
Monday – Friday: 9am – 4.30pm
Saturdays by appointment only
A member of our team will always be on hand to assist.
As we continue to ensure a safety of our staff and customers, we ask that you call 01424 774497 in advance of your visit.
Find out what our customers are saying
We are proud to have many happy customers in Sussex.
Find out what customers are saying about us – read our reviews.
We are specialists in stone and are happy to answer all your questions about our natural stone products. Please call 01424 774497 or send us an email at .