The overwhelming grief of losing someone we love can make tasks such as deciding what to inscribe on a headstone, difficult.  However, taking time to ensure a headstone says everything you want it to say, is important.  A headstone will serve as a special memorial for the family and friends that will continue to pay their respects to the life that has been lost for many years to come.
Typically, the goal of the epitaph is to share the most important values of the person who has died or to summarise the person's life.  Sometimes, the inscription leaves some words of wisdom for loved ones to treasure.  We take a look at some example inscriptions and some tips on what to write on a headstone to make it a fitting tribute for your loved one.
Top tips for writing headstone inscriptions:
Take time to reflect
If your loved one did not request a specific headstone inscription we usually recommended taking some time before you write your words, to really think about that person's life and what it meant to everyone.  Think about their personality, character, hobbies, career, and relationships.  This can be a hard think to do at such an emotional time, but it really will help you decide what kind of tribute would be most fitting.
Less is more
Writing a headstone can be a difficult job.  You are generally limited to just a few lines on the headstone and it can prove trying to summarise an entire life in a few short words.  Keeping things, simple and concise is key.
Tone of voice
Deciding whether you want the headstone to simply describe and pay tribute to the deceased's life or whether you want the words inscribed to speak directly to an audience is a personal choice that really depends on the person personality of the deceased.  If they were someone known and loved for their trustworthy advice and comfort, you might want the inscription to convey some final words of wisdom to reflect this element of their personality.
Keep your words timeless
Grief can often hamper our ability to think clearly and right after our loved ones die, we often experience a whirlwind of emotions.  You may end up regretting words you choose if you do not give yourself enough time to clear your head, and you may end up regretting the words you chose.  Try to remember that these words will be there forever.  Make what you write a timeless tribute.  It is always a good idea to run thoughts past a family member or friend before you make your final decision.
Sample headstone formats and suggested verses
Typically a headstone memorial will include the deceased's name, date of birth, date of death and sometimes simple sayings or verses.  However, there are many ways to enhance a headstone to make it a richer tribute for your loved one.  Here are a few sample formats and suggested verses that our specialist stonemasons are often asked to hand carve onto churchyard memorials: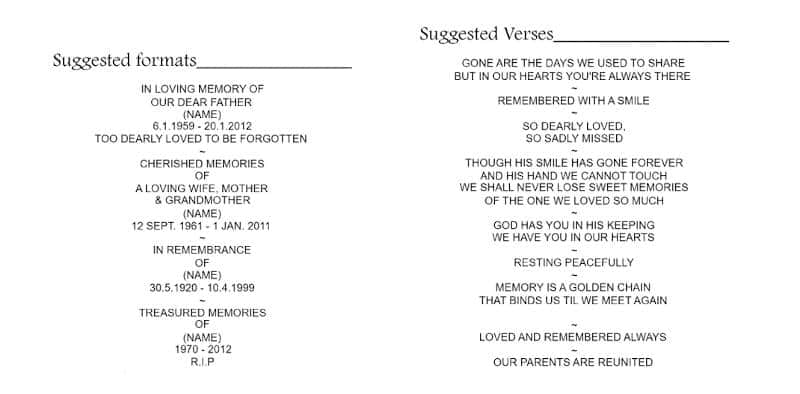 Hand-carved memorials crafted by specialist stonemasons
Here at JF Stoneworks we design, make, and install memorials, working in both churchyards and cemeteries.  As specialist stonemasons we ensure the memorial is perfect for you and a fitting tribute to the person who has passed away.  We craft memorials befitting your loved one, giving you a tangible way to remember someone's life.
Our stonemasons can create headstones, plaques, statues, or anything else you might require.  We work with you to ensure we achieve your vision and every memorial we make is completely personalised.
View our cemetery and churchyard memorial brochures to see examples of exactly what we can offer you.  We will guide you through the process sensitively, always listening carefully to what you want and meeting your needs in every possible way.  Please do not hesitate to contact us if you would like to chat through an enquiry.